There is currently an approx. 7 week wait for orders.

Given the current Covid-19 (Coronavirus) restrictions, there may be delays in accepting orders, making collars, and posting. While we normally aim to post collars within 3 weeks of ordering, the current situation may result in significantly longer time scales than this.

At present, we are only able to accept orders from within the UK. We cannot guarantee international postage will arrive, so sadly cannot make collars for our international customers. Any orders placed for outside the UK will be cancelled.

The waiting list times may prove to be longer than reported by the website.

Thank you for your understanding during this difficult time, and we hope all of you are keeping safe and well.

Regards,
Claire and Graham
Welcome to Celtichound Collars. We hand craft leather collars for hounds of all shapes and sizes. We specialise in decorated collars and make slip collars, buckle collars and leather martingale collars. We are a small family business and can only make a few collars each month. Therefore, we have a waiting list ordering system. See our ordering page for more details. If you can't find what you're looking for or need help - just ask.
Shop News

Please remember that we're a small business, and can only make a limited number of collars each week. The waiting list time shows how long you can expect to wait for your invoice. Once you've paid, it will take us 2-3 weeks to make and post your collar.
A percentage of all items sold go to dog rescue charities see more...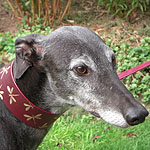 Don't forget to email us a photo of your hound modelling their new purchase. We will add their photo to our gallery of hounds!
Alfie models his Iridescent Dragonflies slip colar.